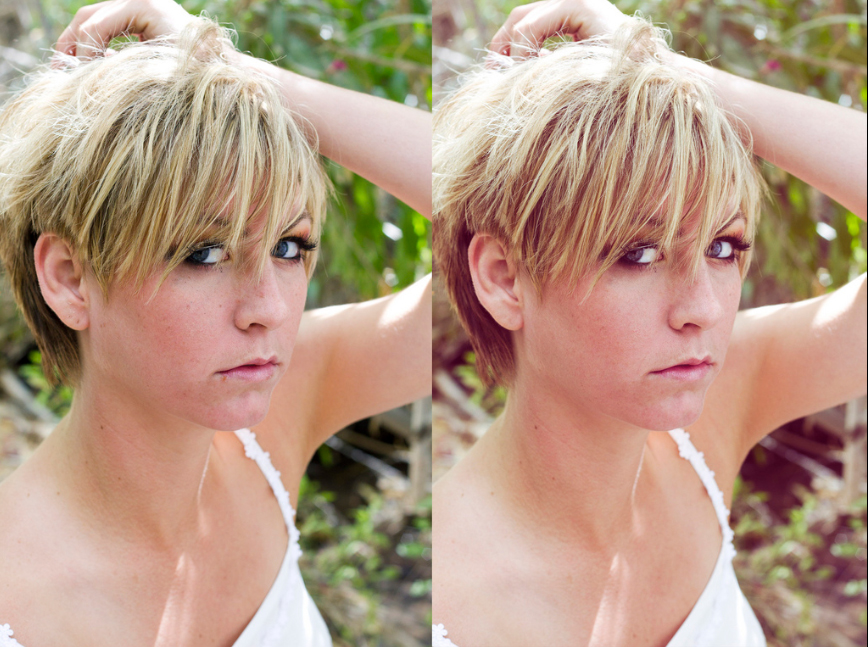 When I was in middle school all the girls in my class started wearing makeup. I, of course, wanted to fit in. So my mother took me to the drug store and bought me a metric ton of cheap wet-n-wild makeup in such understated colors as pumpkin orange, and goblin green. Painting my face up like a clown was fun, but it didn't exactly make me look like a young woman – which is what I was really going for. It wasn't until I visited my aunt, who was a makeup artist for a major cosmetics company, that I really figured things out. She sat me down and gave me a lesson in subtly. She said to me, "If the first thing people notice about you is your makeup then you've missed the point entirely."
So many of the images we see on YANAP are bad images with comically bad editing. But it's much more upsetting to me when I see someone who is otherwise pretty talented ruin a decent photo by editing it to death. The point of photo editing is to enhance your image, not over power it. An over-processed photo is like a woman wearing too much makeup; no matter how beautiful she is, all you can see is the caked-on horror. I'm going to go over some tips and practices to help you enhance your images instead of ruin them.
Shoot RAW
If you aren't shooting RAW, you aren't a professional. Period. RAW files are files that have not been compressed yet so there is much more information for you to work with. You can fine tune your exposure, white balance, and about a gillion other things right in your Camera RAW window. If your files start out as JPG files then you have much less control over your final product. RAW files take up more space on your cards and you'll need to make sure that you have the correct software to read and edit them. Which brings me to my next point.
Get Professional Software
You can't create professional images without professional software. If you are serious about your craft you need to invest in the right tools for your trade. Would you take your film to Walmart to get processed instead of a custom lab? I'd hope not. Get yourself Adobe Photoshop (not Photoshop Elements, not Picasa, not Windows Photo Editor, not Gimp, etc.) and learn how to use it. Some people also use Lightroom in addition. You can sign up for Adobe's Creative Cloud for an inexpensive monthly fee, and you can get a Lynda.com membership for cheap to learn your program thoroughly.
Tread Lightly
If you only remember one thing from this whole article, let it be this: It is ALWAYS better to under-edit than to over-edit. If you aren't sure if an edit needs to be made, then it doesn't. Never make any  unnecessary edits. The goal of photo editing is to make an image look as if it hasn't been edited at all. Make sure you use a light hand with each new process, and work in very small increments to make sure that you haven't crossed the line from making an image better to making it worse (this can be a FINE line). Always keep a layer with your original image on it and check back often to make sure that you aren't doing more harm than good.
Skin Texture is GOOD
Nothing pisses me off like seeing an image in which a person's face has been transformed into an inhuman mask of expressionless plastic. Not only does this look incredibly bad on a professional level, it is extremely offensive to your subject. This person, I assume, has a face that their friends and family quite like. When you do this to a person– even if it's a model–  you are effectively saying to them "your face and skin are so terrible to look at that I just did away with them completely" at best. At worst, "I think you'd look better as sex doll".  Our job as portraitists is to document the human face, not hide it behind a blurry mess.
Step AWAY From the Blur Tool
That isn't to say that you should never touch up a persons skin or face. Of course you should. But you need to be certain that while cleaning up blemishes and minor skin issues you are still being true to your subject. The way to do this is simple; never to use the blur tool. Blurring pixels will just draw attention to the area that you are trying fix as well as obliterate all pixel information in that area. There are better ways to clean up skin. That is a topic for a later article so for now I will just say that I suggest you explore other options.
Ditch the Gimmicks
Lens flares, selective coloring, sparkles, bokeh lights, harsh vignettes, fake HDR and all of that nonsense only distracts from the image you have painstakingly crafted. And for the love of all that is holy, please don't put frames on your images! Save that kitschy crap for Instagram.
Good Editing Can't Fix a Bad Image
You can put lipstick on a pig but it probably won't win any beauty contests (save for pig beauty contests). You can't make up for crappy shooting with the magic of Photoshop. You can sometimes salvage an image that was destined for the recycle bin but sometimes you just need to acknowledge when you screwed it up.
Editing can be both an exciting and meditative process where you really separate the wheat from the chaff. It's a time to get honest with yourself about what's working and what's not working, and come away all the better for it. The digital darkroom is a crucible, where imperfections are burned away, and we get to see a product in it's purest form.
I hope this article helps you, as you delve into the world of photo editing, to come out with images that look more like classy and sophisticated young ladies than trashy Jr. Prostitutes. Thanks Mom!